Today I had a follow up growth scan. One of the many I have already had and have yet to have. I am 24 weeks 2 days today and Little Nameless (who might I add HAS A NAME NOW!) is measuring right on target with all ten fingers, all ten toes, a big
ol
' belly and her daddy's nose. Oh and a hole in her head.
Ok
, not funny but honestly, one of the photos the tech took looks supremely disturbing. You will see below. My placenta is no longer in the way making a
VBAC
fully plausible, with my cervix measuring 6 blocks (per the
perinatologist's
words). Actually it was measuring 4+ cm which is good. Be low are the photos of Little Nameless in all her hiding glory. I may add, Little Nameless seems to be structurally smaller than
Buzzy
ever was and there doesn't seem to be a hair in sight. Unlike with
Buzzy
who's hair was like a mermaid's in the amniotic fluid from very early on. So with no further adieu,
Buzzy's
sister, Little Nameless (as I will continue to call her until she has an appropriate nickname)
She definitely has Daddy's nose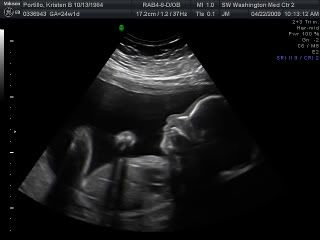 Attempting to keep hidden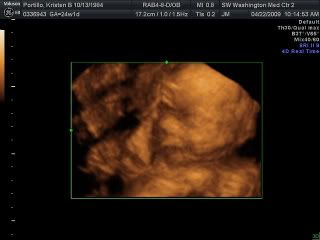 Stop bothering me!!
The scary skull-less photo