Stolen from
Tagged by Veronica Lee of
http://ofmiceandramen.blogspot.com
This is a two parter.
Keeping it Real
Here are the rules:
Take a picture of yourself
right
now
No primping or preening, just snap the picture
Load the picture on to your blog
Tag some people to
play
NO CHEATING!
**Hey,
rules are rules!
I can't be held responsible for those of you who are now blinded or permanently traumatized!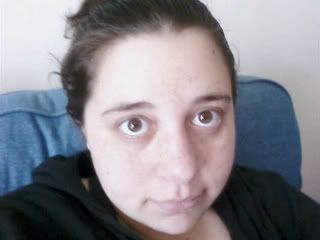 Here's the second part:
8 is Enough!

8 Things I am Looking Forward To
1. Giving birth to Little Nameless
2. Watching my girls grow up
3. Summer & the sun
4. Losing weight
5. Sims3
6. Writing my novel
7. Our first family vacation
8. Buzzy walking
8 Things I Did Yesterday
1. Went to breakfast with Buzzy & Myturo
2. Went to my mom's house
3. Went to my grandparent's house
4. Took a walk
5. Ate McDonalds
6. Went to the market
7. Dashed through the rain to get Buzzy her formula
8. Posted a few posts
8 Things I Wish I Could Do
1. Drive a stick shift
2. Write my novel
3. Convince Myturo that going out while pregnant during a full moon does not deform the baby
4. Cook
5. Speak Italian
6. Travel to Greece
7. Play with Buzzy without getting achey joints
8. Make money working from home
8 Shows I Watch
1. SpongeBob Squarepants
2. Phineas & Ferb
3. Cuidado Con El Angel
4. Las Tontas No Van Al Cielo
5. Manana Es Para Siempre
6. House
7. Gilmore Girls
8. Survivor
8 People I tag
:
1. Megs @
http://nottheuglyduckling.blogspot.com/
2. Marcelle @
http://makingbabies-sa.blogspot.com/
3. Septembermom @
http://myvoicemyview.blogspot.com/
4. Annie @
http://theartofbecomingafamily.blogspot.com/
5. Nichole @
http://tonicallyinluv.blogspot.com
6. Kat @
http://katsscratches.blogspot.com/
7. Betsy @
http://zdroykowski.blogspot.com/
8. DeeDee @
http://deedee-warren.blogspot.com/