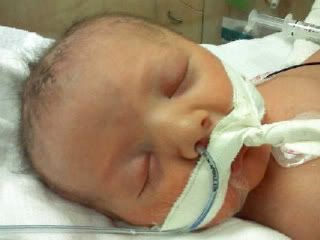 With her express permission I would like to announce that yesterday, in the wee hours of the morning, (1:58am to be exact) Baby Cash was born to my good friend Lerin and her husband Tommy! Weighing 7lbs and measuring 19.3 inches he is perfect!
Early on in Lerin's pregnancy Cash was diagnosed with a herniated diaphram and will likely need surgery soon. He is stable and thriving but still in a fragile state and will spend a yet unknown amount of time in the hospital. Prayers for this beautiful baby, his mommy and his daddy are greatly appreciated!
And thanks are to be given to God for allowing yet another of his beautiful angels to join us on earth and that he arrived via a quick, easy (
natural with epidural
) labor of love on his mommy's part. God is good and Cash is beautiful!
CONGRATULATIONS!