WHEN WILL LITTLE NAMELESS BE BORN?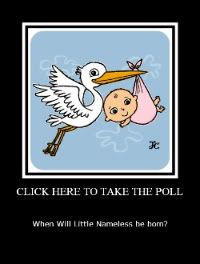 I decided to do a contest for my readers. I am offering a $20 gift card to those who can guess the closest month/day/time of Little Nameless' birth. You can click on the link above or the link to the left in my side panel. It should take you directly to the contest site.
International Entries Welcome as long as your local vendors except VISA/MASTERCARD or AMERICAN EXPRESS.
Remember! Little
Nameless's
gestational due date is August 11
th
, 2009.
Also remember! I went into labor spontaneously with
Buzzy
at 37 week 6 days and she was born at exactly 38 weeks.
(2 weeks early)

There are only 100 entry spaces available so if you want to participate, get your entry in ASAP!
The winner will be announced on my blog at my earliest convenience after Little Nameless' birth.
(You all understand)