** Well, not really.
What you are about to read is of a very personal nature and as things of a very personal nature go, I am highly sensitive to other people's opinions. Especially the negative ones. Not the ones who disagree with me. Disagreement is part of life. Rather the ones who insult, berate, belittle and look down upon. So, right here and now YOU ARE WARNED.

I will leave comments open to this post as long as they are constructive. The minute someone writes something rude, comments will be shut off and an entire post dedicated to THAT person will follow.
(Because #1 I like to point out when people don't follow directions and #2 I like to point out when people are unnecessarily cruel)
So, onward . . .
For anyone who has never read my blog before the warning above may seem uncalled for.
For those who are regulars you will soon understand the reason for it.
For those who are new to my blog. A snippet of history.
I left my husband for verbal and physical abuse a year ago. We have been on again off again on good-bad terms. He sees our two daughters (Buzzy and Breezy ages 2 and 1) 1x a week on Mondays for breakfast and a trip to the mall where we ride the carousel, the train and shop for a few hours.
Today is September 1st. For many that doesn't mean much. For me, for the last 10 years it has been a day filled with 1 or 2 things. Celebration and fighting. One or the other or both. Celebration of what you ask? Well . . .
The Ex's birthday. He turned 35 today and he asked to spend some time with his girls in the evening. I was feeling generous and asked him if he'd like to spend the whole day with us. Of course he said yes. As usual we met at IHOP.
Tangent- I had 6 egg whites with salsa, a banana and 2 cups of coffee with 4 creamers totaling 366 calories - End tangent
As usual we then went to the mall. We took the girls twice on the carousel and twice on the train and then went shopping for some fall clothes for Breezy because for some reason I don't have any left over from Buzzy. Hmmm.
After that we drove into Oregon (
which is over the bridge *and through the wood? - err no wrong story
*) to go to Babies/ToysRus because he wanted to buy the girls something. The girls slept for about 1.5 hours in the car while I drove around, not wanting to wake them. In that amount of time my Ex and I had some good conversation regarding his work and the girls etc.
Once the girls were awake we spent about 2 hours in Babies/Toys'R'us looking at every toy imaginable. Both girls were extremely overwhelmed. Amazingly enough, we left with only an iCarly microphone and a bouncy ball. There were no fits about leaving and not one time did Buzzy say she wanted something that she knew she couldn't have nor did she have any tantrums about putting away things she knew she wasn't going to get. It was AWESOME!
We then drove back over the Interstate Bridge to eat at Applebees.
Tangent - I had 2 mozzarella sticks with marinara sauce + a full order of the santa fe salad with only 1/2 the dressing = 1286 calories . . . That is a total of 1652 calories consumed and when 35 minutes of slow walking (it was probably more but I'm underestimating) is added to it I had a net of 1471 - not too shabby - End tangent
The dinner was awesome. The girls were content. I was content.
We then drove back to IHOP where the Ex had parked his car and we walked over to a nearby park to let the girls play for a while. We were there for about 2 hours playing on the slides and the bars and the swings and the grass. Buzzy brought her iCarly microphone and sang everywhere she played. It was adorable.
Then we went back to our cars and went our separate ways.
Here is where the controversial part comes in.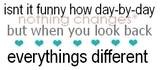 The Ex was different today. If the rest of our relationship had always been like today there never would have been a reason for me to leave him. He was sweet and kind and funny and he seemed happy. Genuinely happy. He kept looking at me with these looks like he was missing me but he said nothing and he kept looking at our girls and the longing on his face was so evident it nearly brought tears to my eyes. I tried to put myself in his position. Being the outsider after a year of not living with the girls. Seeing them only 1 time a week for 3 hours and watching them sleep in the car after not having been able to watch them sleep for almost a year. It broke my heart to be in his shoes.
When we talked about his job and we joked about the people he worked with I felt a familiar comfort like I was home, odd as that may be. When he would look at me I'd get prickles up and down my spine like I might have when I first met him 10 years ago.

It was so strange. Especially since not so long ago I loathed him, wanted nothing to do with him, couldn't stand that he texted me or called me so often. Just wanted him GONE.
Something has changed and I don't know why. I keep trying to look at it from an outsider's perspective and I can hear the comments rolling around in people's thoughts out there.
'He's just reeling you back in.' 'People don't change.''Don't go back to him.''You left him for a reason and nothing has changed.''You're only asking for trouble.''It's because you're lonely.'
The funny thing is that sitting in the car, all of these thoughts passed through my head. I kept telling myself,
'you're a glutton for punishment'
. But being with him today, in the moments that I shared with him just felt right. I can't explain it. I felt like the four of us were a family. I had never ever felt that before.
He talked about wanting to take the girls and me to Disneyland. I haven't completely rejected the idea. It might be fun. When will I alone ever have the money to take the girls? The girls will enjoy it.

I don't know. I'm just rambling now.
I have A LOT to think about.
A LOT.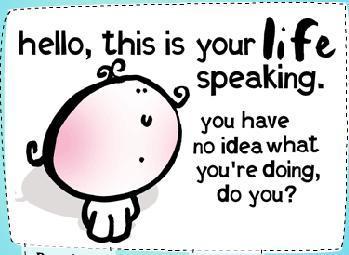 If you have any words of wisdom I will gladly listen/read with open ears/eyes.
But be kind. Please.
XO Kristen