Today I am linking up with Amber over at Mr. Thomas and Me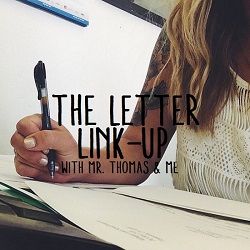 She described these letters as
"
to remember mundane moments that would otherwise slip away."
And so I am writing this letter, my letter, to my daughters.
__________________________________________________
Dearest Girls of Mine,
You are precious to me. Sometimes I look into your beautiful faces and can't believe that you are mine. That you both are mine. I can't believe what a beautiful gift God has bestowed upon me through you.
I will admit, a lot of the time I feel inadequate. I feel like I am shorting you both somehow. Maybe it is because I am a single mom. I am only 1/2 of the whole that should make up this 'parenting unit'. Sometimes I feel like I need to have more patience, be more compassionate and tender, play more, discipline less.
And yet, I see it in your beautiful brown eyes that you love me anyway. You both are gracious and deeply understanding even at your young ages. Sometimes when I am my angriest with you, I see you look at me with those huge eyes so full of remorse or sadness or anger and my heart just melts and even though I feel the need to remain stern and strict, if you could see my heart from the outside you would know how tightly you have me wrapped around your little fingers.
Sassy, these past weeks have been trying. You test my patience at almost every turn. You become agitated and angry and you tell me that I just make you so angry and then you whine inconsolably. But I have learned that yelling at you and punishing you for this behavior gets me nowhere. You are a deeply feeling human being. You are deeply affected by things that a lot of six year olds are not. You feel deep compassion for people in pain or who are sad. You have a desperate want to please people and make them smile. And so, I have found that sitting with you and talking it through . . . letting you voice your feelings through words has made you a complex communicator. You are able to express things at six years old that I don't know if I can express now at 30. You amaze me with your keen intuition and your deep deep love. I love you so much Sassy pants . . . no words in any language could ever express the depths of my love for you and everything that you are.
Breezy, I hope that you know when I take you to school and leave that it is not because I want to leave you. There is nothing that tugs at my heart strings harder than watching your eyes well up with tears and your nose turn red because you don't want me to leave you. You're getting better though. The separation anxiety is not as severe as it was. The tears turn off sooner, so I am told by your teacher and your great aunt who works at the school in your classroom. I am so proud of how well you are doing. Math with no fingers and such a good reader! And how about that tooth? Are you ever gonna let me try to get it out? I love you my Breezy Loo. I pray that as you get older and you become more accustomed to it that life in school and life spent away from mommy gets just a little easier each day. I also pray that you will never NOT need me for hugs and kisses and to play with my hair.
I only vaguely remember life without you my loves. It isn't even a time worth remembering; full of selfish, self-indulgent and self-serving moments. It was only after the two of you came into this world that I slowly learned the virtues of selflessness, patience, unconditional love and sacrifice. And yet, while patience still sometimes proves difficult, from the moment I knew you existed, I loved you unconditionally with every fiber of every cell in my being.. Selflessness and sacrifice are the product of that unconditional love. There is nothing in the world that for your safety, for your well being and for your true happiness that I would hesitate to do for you. You are my life and my world.
Love,
Mommy